Viewer | 5 Minutes Reading
Best Tips & Tricks to Open MSG File Without Outlook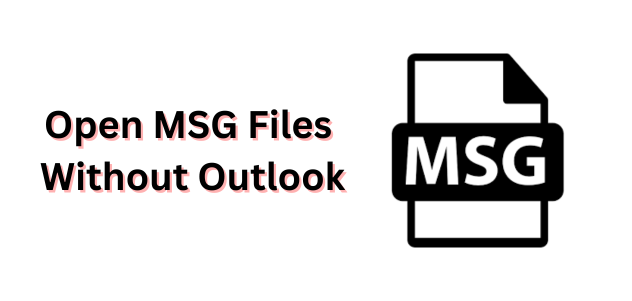 In this technical guide, today we will discuss all the possible ways to easily open MSG files without Outlook hassle-free. To get an easy & simple solution, read this blog post from start to end. You will get all the answers here in just a few clicks. How? Let's begin with the MSG files introduction and then move towards the solution one by one.
Table of Content
The email will be saved as email-name. msg, when you drag and drop it from the Outlook desktop client to your desktop. MSG files are used to save individual Outlook emails. It contains text from an email and associated metadata. The metadata also stores details like the sender and receiver of the email, the date, and time of the email, and any other such information. Moreover, it is easy to open MSG files even if users don't have installed MS Outlook in their system, though having Outlook makes it much easier for users.
User Query!
"Hi, I am Rocky and I will not be able to open my MSG file data. I also tried many other solutions to open my MSG file without Outlook. But searching a lot, I still haven't found a reliable method to overcome this issue. So, please anyone guide me with an appropriate solution to do so."
Now, in the section below we will discuss how to open MSG file with or without Outlook on Windows in a very easy manner. Because of the time users cannot find any way to process their task. But no need to worry! Here you have two amazing solutions to easily read single or multiple MSG files without facing any trouble. Let us start with a manual method!
How to Read MSG File Without Outlook Manually?
There are several who are still suffering to get a resultant result for their issue. But, they cannot find any way to do. And, some of them are looking for manual methods. So, in the section below we have listed some steps to perform this task manually. Go and follow the below working steps for the same!
Want to open MSG Files without Outlook installation? If yes, then you need to change the MSG file extension into HTML file format. Then, you need MSG files in the browser.
Select "MSG File" which you wish to change into HTML format.
Click on File, and choose the "Save As" option
Now, select HTML Format.
So, performing this above solution, you will easily open the .msg files extension without any MS Outlook installation. Learn that using the manual method users cannot read MSG files along with attachments. Or they need to process steps again and again for each MSG file. But, no need to worry at all! We have suggested an automated tool in the below section that has no restrictions and is safe for users.
Open Multiple MSG File Without Outlook Professional Solution
Explore the best MSG Viewer Tool which is designed with advanced algorithms. This tool allows users to easily browse, view, and read MSG files in an easier manner. Users can easily preview MSG files with MIME View, RTF View, Hex View, etc.
Moreover, this automated tool also maintains the folder hierarchy of the MSG folder. To sort the MSG emails with all attributes like: From, To, Sent, Received, etc. Both the technical and non-technical users can easily open multiple MSG files with / without Outlook installation in their machines.
This is how automated tool work for any kind of problem. Now, it's time to move towards the software working steps to more quick & simple solutions for non-technical users.
Working Process Guide for Automated Tool
Following are simple steps to view MSG files in bulk format along with attachments. Using the above professional tool.
1. Download the Tool on your Windows system.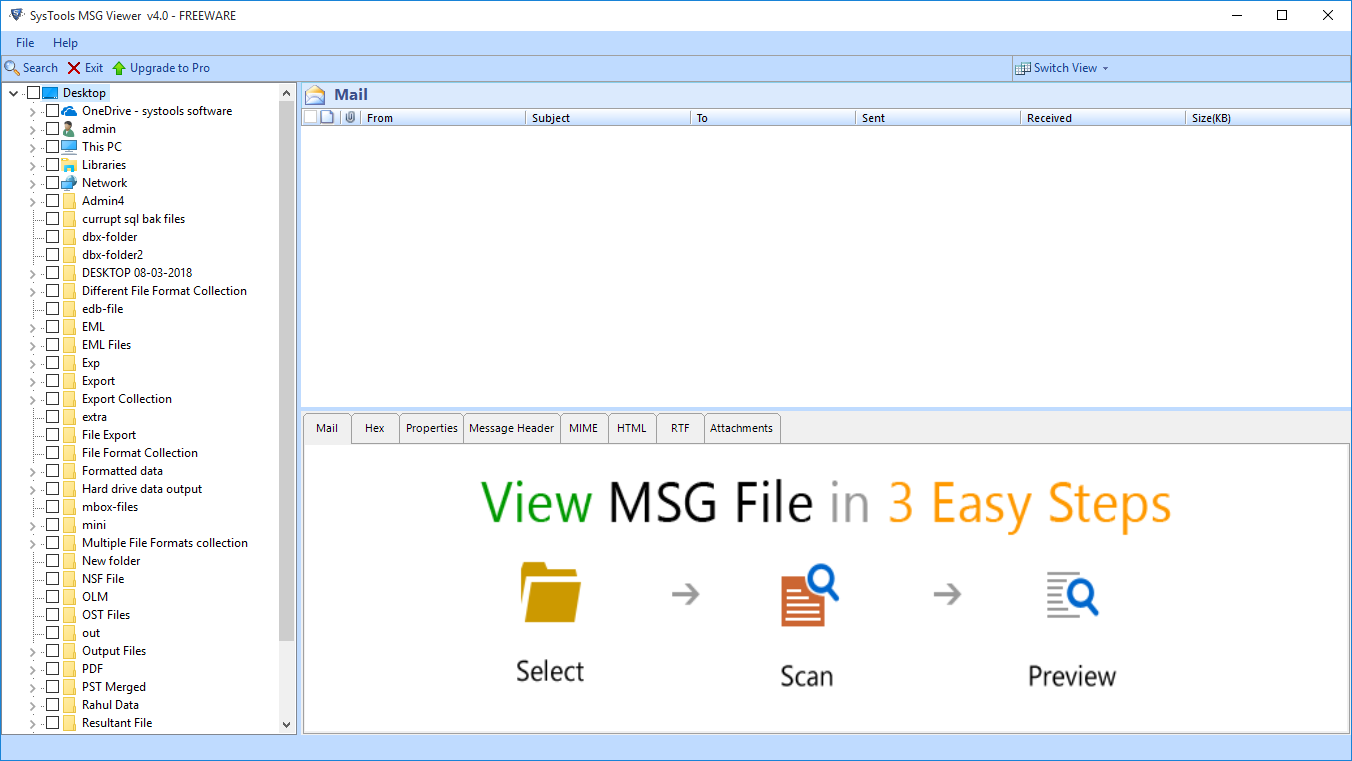 2. Explore & Read MSG File Message and Preview Emails along with Attachments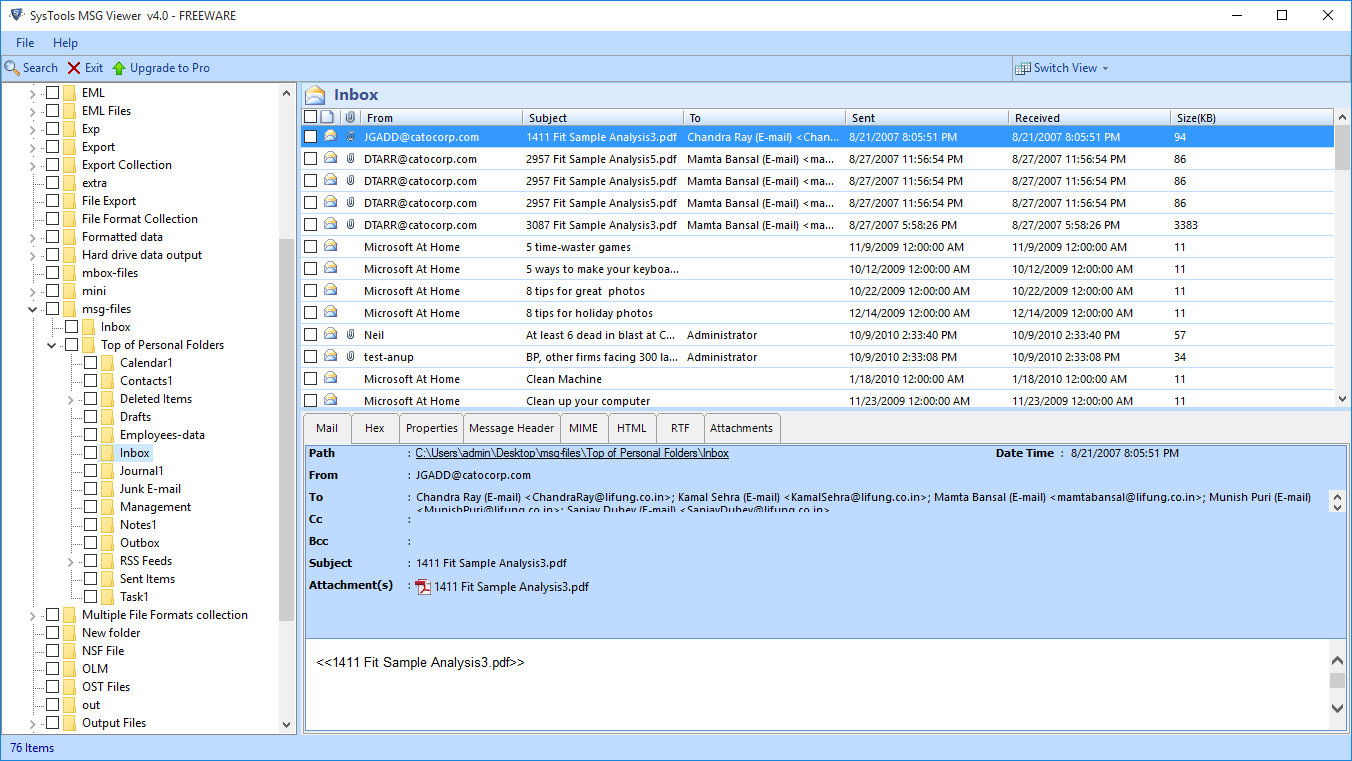 3. Choose "Switch View" option to choose between Horizontal and Vertical Views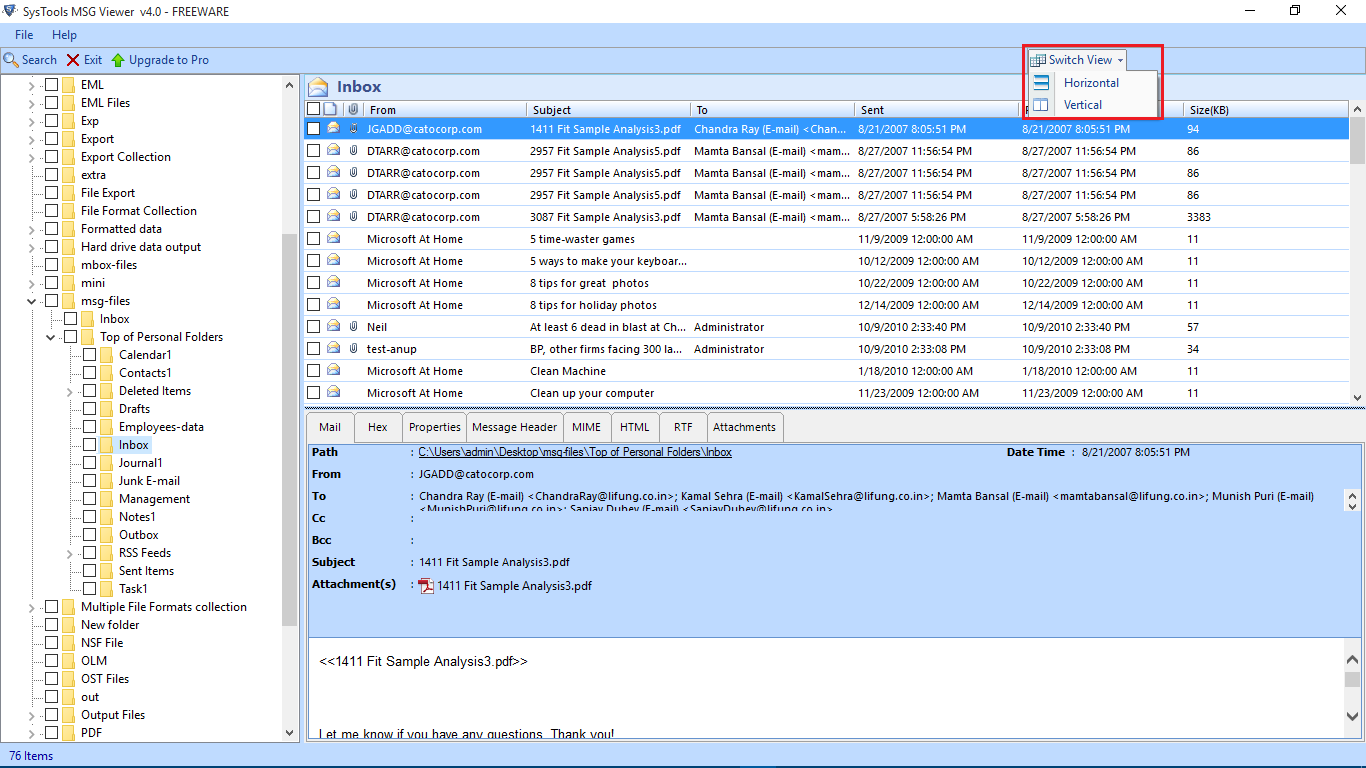 4. Finally, you have multiple views to read Outlook MSG Files.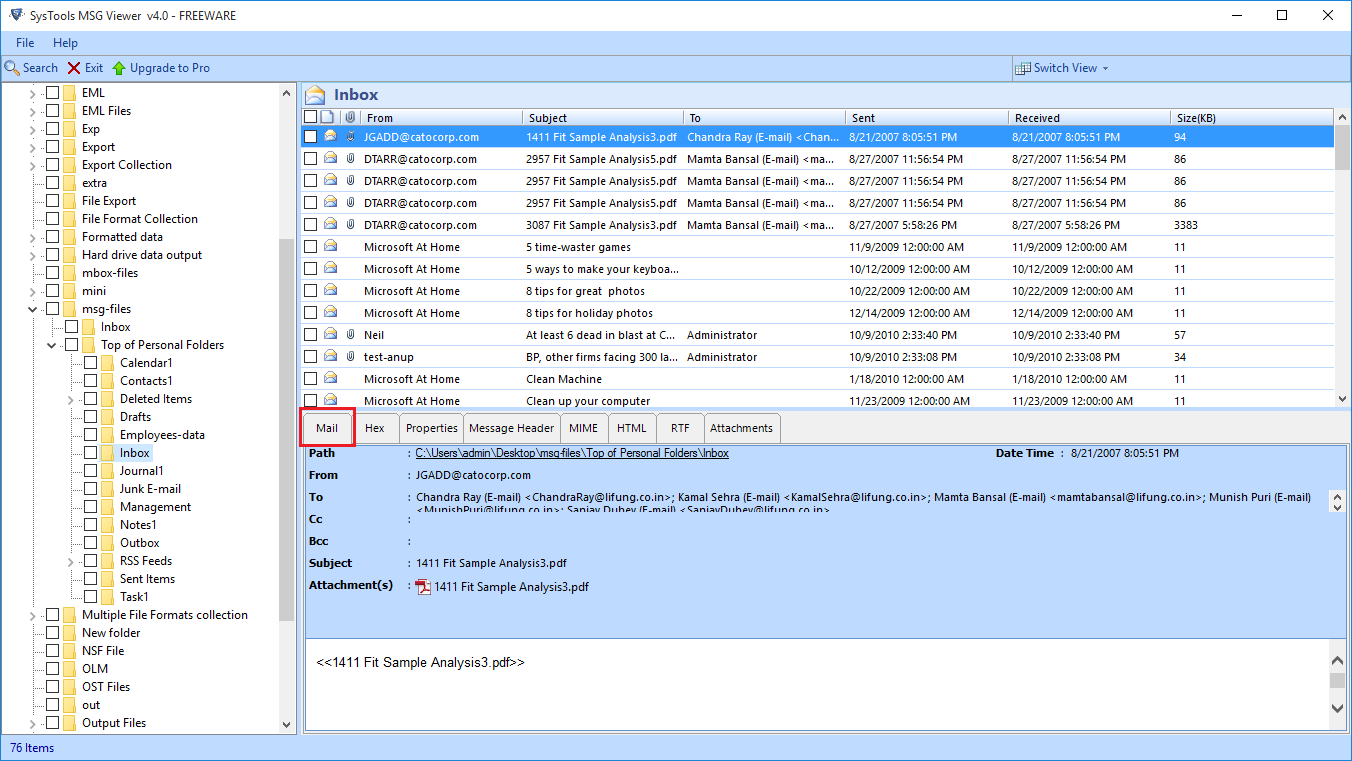 Here, we have performed both the manual and automated methods. After using these two different ways that allow users to easily open multiple MSG files Without Outlook. So, according to our expert recommendation we suggested you to go with the above automated tool which safe & provides 100% generate for data security. Or you can choose per your needs!
Finishing Line
In this article, we have explained two wonderful ways to easily Open MSG file Without Outlook in an hassle-free manner. This blog provides solutions for technical and the non-technical users where they can easily perform their task without losing any data. The above manual method you see is easy & simple but it is difficult for novice users and has some of its own challenges. On the other hand, we have suggested to you an automated solution that provides many advanced features to easily read & view MSG files in bulk with attachments without any MS Outlook installation. Read this blog carefully and get a solution for your issues.
Frequently Asked Questions
Q 1: How do I Open MSG File Without Outlook?
A 1: Using the automated tool users can easily open MSG files with or Without any Outlook installation in their PC.
Q 2: Can I read an MSG File without Outlook using a manual method?
A 2: No, if you are using a manual method then it is necessary to install Outlook in your machine.