Technology | 6 Minutes Reading
Tested Solutions to Open MBOX File in Mozilla Thunderbird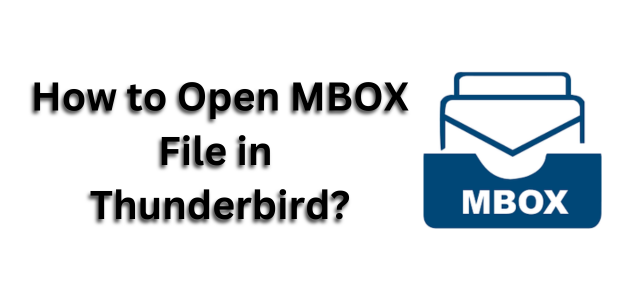 Are you one of those who are seeking to open MBOX file in Thunderbird? If yes, then stop with this blog post today we are going to suggest some amazing solutions to make this task safe & secure for users. How? Let us learn in the section below!
Table of Content
Opening the MBOX files into the Mozilla Thunderbird email application is a simple process. After all, Thunderbird itself works on the MBOX database and supports the MBOX file format. As it is a straightforward task to read MBOX files in Thunderbird.
As we know MBOX file is an archived file format to store email & messages on the UNIX system. It easily contains email messages that are stored in a concatenated formation to combine each message after another, starting from the keyword. It is the best local format to store the mailbox data locally.
Now, in the below sections, we will discuss how to open a single or multiple MBOX file into Mozilla Thunderbird in a hassle-free manner.
User Query to Open MBOX File!
"Hi, I am searching for a way to open my MBOX file data but I am facing some technical issues. I cannot find my MBOX file quickly. And, already tried many ways to overcome this issue. So, please I request you to provide me with an appropriate method to safely come out with this problem."
After knowing the user query it's time to move towards the manual method to make users' tasks a little easier. How? Let's take a look to open the MBOX file in Thunderbird!
Try the Manual Method to Read MBOX File in Thunderbird
If you are one of those who are looking for a manual method to easily solve the user's issue and provide them with a simple solution. To perform this task manually user needs to follow the below instructions step-by-step:
Phase 1: Using Mozilla Thunderbird Account
First, go to Menu, and then click on "Account Settings".
Select "Local Folders" to select the MBOX file location
Click on the "Browse Button" in the bottom-right corner of the Message Storage header
Select the folder where you previously saved your MBOX file by selecting "Folder" in the newly opened pane
Accept Thunderbird's request to Restart when it does so
Now, your MBOX file will display in the Local Folder section of your Inbox when Thunderbird reopens, allowing you to browse its whole contents and attachments.
Phase 2: Open MBOX File in Thunderbird Using Add-ons
Download the "ImportExportTools" Add-ons for Thunderbird.
Start Thunderbird again, and select the Tools option in the menu bar
Select the "ImportExportTools" option by swiping down on this option
Hit to Import the file option to proceed after that
To finish the process, choose "MBOX File" from your system
At least, restart the Thunderbird to examine the imported mailbox file in a preview window.
Drawbacks For Using the Manual Method
As we all know manually we cannot open multiple MBOX files in Thunderbird. Because, this method has some restrictions, so follow the below limitations for the same!
Using this method is necessary to have technical knowledge.
It can alter the MBOX file while transferring to a Thunderbird account.
This process doesn't guarantee the result, the MBOX files can be lost while migrating.
Important Note: Here, we have done this task using a manual method but, technically this solution is not easy for users. Also, it is a time-consuming process and users cannot open or read multiple MBOX files to Mozilla Thunderbird. Because it has some limitations and other challenges. No need to worry! Below we have suggested an automated tool which is an easy & quick method to overcome this easily in just a few clicks. How? Let us learn in the below section with its working steps!
Alternative Method to Batch Open MBOX File in Thunderbird
If you are still struggling with the problem of reading MBOX files in Thunderbird, then here in this section we have an amazing MBOX Viewer Tool that helps you in achieving the goal successfully without any data loss. This tool allows you to read MBOX files of multiple email applications without any dependency. Also, it offers several preview modes like Header, HTML, RTF, HEX, and so on.
Moreover, this utility maintains the hierarchy of folders for containing MBOX files. It is easy to use for both technical and non-technical users to open multiple MBOX files to Thunderbird without facing any trouble.
Overall this is a great method to quickly open & read the MBOX file in bulk without facing any technical challenges. So, to know more about this tool you can easily go with the above buy button to get more information.
Now, below we have provided simple working steps to complete this task in just a few clicks. Let us check the below working for reading MBOX files.
A Complete Steps Guide for Opening Bulk MBOX Files
Following is the working process explained to quickly open MBOX file in Thunderbird without installation of any other application:-
1. Install and run the tool on your Windows Machine.
2. View and explore "MBOX File" and preview emails with Attachments
3. Browse the MBOX file in two different modes: Horizontal and Vertical View
4. Multiple Views to Open MBOX File without Outlook in Windows OS.
Observational Verdict
In this technical guide, we have discussed all the possible points to solve the issue. To open MBOX file in Thunderbird you can easily use this automated tool which successfully achieves the goal in just a few clicks. And, there is no restrictions, users can easily open single or multiple MBOX files without facing any hassle.
On the other hand, some users want a manual method to perform the task. So go with the above article where you get this method also. But, some technical challenges are not good for non-technical users. Also, users can only open a single MBOX file using a manual method. For more users need to process each again and again for each MBOX file. Read this blog post to choose the best solution for your issue.
Frequently Asked Questions
Q 1: How do I open MBOX Files in Thunderbird?
A 1: If you want to import MBOX to Thunderbird locally, then the left-hand pane selects local folders so it is highlighted. Select Tools >> ImportExportTools NG >> Import MBOX files >>Import directly one or more MBOX files >> Select your exported MBOX file and hit open.
Q 2: Can I Read multiple MBOX files in Thunderbird?
A 2: Yes, the above automated tool, allows users to open single or multiple MBOX files into Mozilla Thunderbird without losing any data information.