Viewer | 6 Minutes Reading
Open EML Files Without Outlook a Complete Solution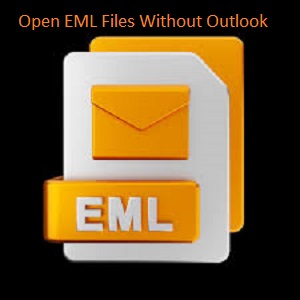 In this article, we are going to solve a common problem with EML files and learn why they don't open and how you can open EML files without Outlook. Here we are going to show you two reliable methods to read EML files.
To perform that task we will be using a professional method in which we are going to use Expert Software. Another method is going to be a free manual method.
Why do Users fail to Open EML Files?
EML files are not just simple text files they come with many security features and encryption. In this part of this blog, we are going to show you what problems can occur when you try to read EML files without Outlook.
If EML files are not associated with the correct application or viewer on your computer, it can be hard to open them. You may need to set up a default EML file viewer.
While Outlook is a popular email client that can open EML files, not everyone uses it. Some users may not want to install Outlook or may not have access to it. In this case, they would need a different method to view EML files.
EML files contain email message data and are not always intended to be standalone documents. To view their contents, you may need to change its format to a more common format, such as PDF or plain text.
EML files can contain sensitive email content, and some users may be reluctant to use online services to view them due to privacy and security concerns.
Some operating systems may not have built-in support for EML files. Users on such platforms might need to find or install third-party viewers.
Because of these small setbacks, a user fails to Open EML files, in the upcoming section you are going to learn to overcome those setbacks and learn to read EML files.
How to Open EML Files Without Outlook Manually?
In this part, you are going to learn how you can easily read EML files without Outlook. In most cases, you can easily drag and drop the EML files to open them but they don't work sometimes, so we are going to do this task with a different approach.
Steps to Read EML Files  
Locate your EML files in your system.
Click the right button on the file and choose the rename option.
Replace the EML extinction with MHT.
Then click Yes on the button YES to save the changes.
In the end, choose the internet browser to Open EML files.
This manual method is easy to use but it has many disadvantages it provides you with limited functions, but overall you can't do much with it. Ahead you are going to learn about them in detail.
Limitations of Manual Method
In this section of this article, you are going to see the limitations of the provided manual method because it only allows you to read the content of the EML file without showing its attachments and other important data.
Opening EML files manually, especially if they come from untrusted sources, can carry a risk of malware or virus infection. Ensure perfect security measures are in place.
Some manual methods may not offer advanced features like searching, sorting, or filtering, which are commonly available in full-fledged email clients like Outlook.
Configuring file associations to open EML files with the desired software can be tricky. Incorrect associations can lead to errors or the wrong program opening when viewing the file.
Some methods might not handle email attachments effectively, potentially leading to difficulties viewing or saving them.
If you use a web-based email client or online Tool, you may need an internet connection to access and view the files, which can be limiting when offline.
As you can see there are many limited functions this method offers to the user if you are looking for a more reliable and safe method to open EML files. we have the perfect software that you can use.
Open EML Files Without Outlook Using a Professional Application
ForensicsWare EML Viewer Software is the ideal application you can get to manage your EML files effortlessly. Normally EML files are supported by many email programs this application is a complete utility to open EML files.
And its attachments without depending on an email client. This tool is integrated with great features like exploring EML files with attachments with advanced search options, and below you are going to learn how easily you can use this application.
Step-by-Step Guide to Read EML File
Download the utility form website and install it on your PC.
Now run the software and locate EML files manually or you can auto-search your files.
Then the application lets you preview the EML files such as Normal Mail, Hex, Properties, Message Header, MIME, and HTML View.
Your attachments will appear in the attachment tab area.
You will get a horizontal and vertical view to see your EML files.
With this application, you also get a lot of beneficial features, and a user-friendly interface you don't need to be an expert to use this application in just a few easy steps and you will be able to read EML files without Outlook.
Beneficial Features of the Automatic Solution
This application allows you to view EML files without any other email client
The application maintains your file structure and hierarchical order.
With it you get Various preview modes: Mail, Hex, Properties, MIME, HTML etc.
It supports flexible preview modes Horizontal view and Vertical view
You will be able to auto-locate and load EML emails directly to the application's dashboard
Final Words
In this blog, we have offered you all the information you need to Open EML files without Outlook. With the provided, you can choose any method to read EML files with Outlook according to your needs.
But from personal experience, we suggest you try the professional application mentioned above to manage your EML files. Because it's reliable and used by thousands of users to know more about it or if you have any questions you can easily visit its official site.