Technology | 5 Minutes Reading
Best Tips & Tricks to Open An OST File in Windows 10 & 11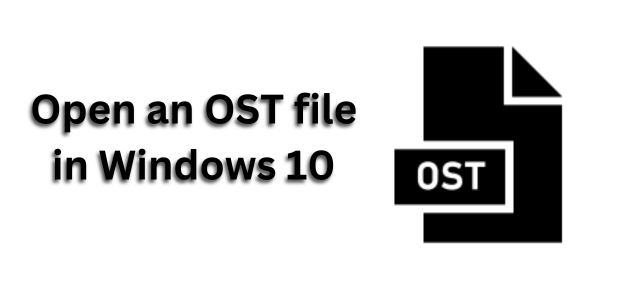 Summary: In this effective guide today we are going to discuss how to open an OST file in Windows 10. This blog post will guide you through all the possible technical issues without facing any trouble. For that, you will need to read this post from start to end.
Table of Content
The OST file is beneficial in solving the issues of interrupted or limited internet connectivity by allowing users to work offline. With the help of an OST file, users can draft emails, set reminders, etc. If they have disconnected from the mail server. This Outlook OST file is synced to the Exchange Server and the emails composed offline are sent when the connectivity is established.
There are several users who are still suffering from these types of issues. However, users couldn't find any reliable way to open multiple OST files on Windows 11, 10, 8.1, 8, & 7 versions. After searching a lot we suggest users stop here and get amazing solutions to read single or multiple OST files on all Windows 10. Let us take a look one by one to successfully finish this task.
Now, users know the manual method to open an OST file in Windows 10 OS.
Manual Method to Open OST File on Windows 10
There are many OST users who want to perform this task using manual methods. Because of some technical issues, they can't find any right way to do so. But, in the below section, we have provided you with a manual method to perform this task easily.
Download Microsoft Outlook on your Windows system. Click on File Tab from the menu bar.
Click on "Open & Export" option and then Import/Export option

Now, a new wizard will appear. Select the Import from another program or file option and hit on Next
A new window will appear, simply select the "Outlook Data File (.pst)" option. Click on "Next" button
Browse "PST file" by clicking on the browse button. After opt right option replace duplicate with items imported and click on "Next" button
Select the features if required after that opt for either Import items into current folders or import items into the same folder. Now, click on the "Finish button". And, you have successfully imported OST into Outlook. Go to the dashboard and open imported files.
After following the above manual working steps, users hope to get their answer as to why they face technical challenges during the process. Manually, it is not possible to open multiple OST files at a time. It consumes a lot of users' time and effort to finish this task on time which is not good for non-technical users. But, not to worry! Check the section below where our experts recommended an automated tool to easily overcome this task. How? Let us learn in the section below!
Alternative Solution to Open Bulk OST Files in Windows 11
Grab this OST Viewer Tool that supports inaccessible, orphaned, and corrupted OST file data without losing any single piece of user data. Using this OST email reader tool, users can easily access/read Outlook OST file data like contacts, emails, and calendars along with attachments. You can easily add multiple OST files one by one & preview items in an In-built viewer.
Moreover, this tool has no file size restrictions to open single or multiple OST files in Windows. Also, both technical and non-technical users can easily use this automated utility to get appropriate solutions for their problems. It supports all the Windows 11 (64-bit),10, 8.1, 8, & 7 versions.
Now, below we have discussed simple & quick working steps to Open OST file without facing any trouble during processing.
Simple Steps to Read OST Files
Following are the steps to bulk open an OST file in Windows 10 using an automated tool.
Launch the tool on your Windows machine.

Browse "OST file" and select Advance Scan option

Now, Preview Outlook Data items in multiple preview modes

Finally, hit on the "Switch View" option to choose between Horizontal and Vertical Views.
Note: Here, we have done both methods to read single or multiple OST files on Windows. So, you can choose as per your need which one is the perfect solution for this issue. But, as per our experts' suggestion, we recommended you go with an automated tool to open an OST file.
Observational Verdict
Today, in this guide, we have discussed a complete solution to "Open an OST file in Windows 10" in a hassle-free manner. Several users want to open and read OST files in bulk. So, use this automated tool to open a single or multiple OST files in Windows 10, & 11 without facing any technical issues. Or if you want a manual method then we have suggested the same. That allows you to open a single OST file in Windows for more users that need to process again and again for each OST file. Read this article to get a reliable solution.
Frequently Asked Questions
Q 1: How Can I Open an OST File in Windows 10?
By using this automated tool you can easily open & read OST files in Windows 10. Just follow the below mentioned steps:
Run tool on your Windows system.
Navigate "OST File" with advance scan option
Preview OST file message in Normal View Tab
At the end, change your view as per convince.
Q 2: Is it possible to open multiple OST files in Windows 10 using this tool?
Yes, using this tool you can easily open single or multiple OST files in Windows 10.
Q 3: Can I open the orphaned OST file in Windows?
Yes, using the steps explained in this post. You can easily open an Orphaned OST in Windows 10.