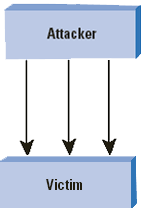 As per the Internet Architecture Board's Internet user policy, the Denial-of-Service attacks are illegal and tend to violate the guidelines of the benchmarked policies laid down by the Internet Service Providers. The above mentioned examples show that DoS attacks can be executed in various manners. Three basic modes using which attackers perform Denail-of-Service attacks are listed below: -
Consumption of scarce, limited, or non-renewable network resources.
Complete destruction of the original configuration of the network.
Physical devastation of the network components.
Illegal Consumption of the Network Resources
The lifeline of the network resources includes network bandwidth, memory and disk space, CPU time, etc. The DoS attackers or network attacks, target these resources and prevent the intended users from accessing them. For example, in "SYN flood" network attack, the intruder tries to create a connection with the victim's machine and over consumes the kernel data structures which are a crucial resource for establishing network connections. The intruders may also consume the bandwidth of your network. This is generally done by generating a large number of data packets transferred towards your network.
In addition to network bandwidth, the DoS attackers may also consume many other crucial resources. Some of the systems have a very limited number of data structures available that are meant for holding information. The attackers may generate a certain type of script of code that has the caliber of creating duplicate copies of all the data stored in a data structure. Thus, destroying the available space.